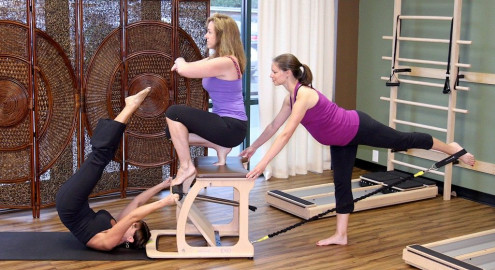 Inner Strength Pilates has the best Winston-Salem has to offer! Our staff of 13 has 170 years of experience! Owner and Polestar Pilates Educator Amy Dixon has been in fitness in Winston Salem since 1994. As a Polestar Pilates Teacher Training studio, we also offer Pilates, Egoscue Therapy, Massage Therapy, Lymphatic Enhancement Therapy, Movement Restore Therapy, Bellicon Bounce, Core Suspend, Esthetics, Yoga, Barre and more! Our specific trainings also include NeuroMuscular Reprogramming, Pilates for Lyme Disease, Scoliosis, Osteoporosis, Breast Cancer Rehab, and Chronic Illnesses. Our goal is to make Pilates fit YOUR body and YOUR needs! We want to help you find your Inner Strength! Welcome!
Specialties
Active Isolated Stretching
AED/CPR Certified
Alleviating Back Pain & Back Strength Training
Arthritis
Back Care And Osteoporosis Training
Balance Training
Ballet
Ballet Barre
Barre
Barre Classes
Barrels
Body Analysis
Breast Cancer Rehabilitation
Breathing
Cadillac Classes
Cancer
Cardio Pilates
Cardio-Reformer
Certified Egoscue Method Therapy
Certified Group Fitness Instructor
Certified Instruction
Certified Lymphatic Enhancement Therapy
Certified Personal Trainer
Chair Pilates
Core Barre
Core Strength
Corporate Classes
Corrective Exercise Training
Corrective Exercises To Balance The Body
Dance Instruction
Disc Herniations
EXO Chair Training
Fibromyaligia
Fitness Training
Flexibility
Foam Roller
Franklin Method
Functional Muscular Balance!
Gentle Yoga
Group Pilates Classes
Holistic Nutrition
Increase Body Awareness
Instruction In Classical Pilates
Integrative
Ladder Barrel
Lifestyle And Weight Management Services
Massage Therapy
Mobility
Myofascial Release
Non-Medical Pain Relief
Nutrition Counseling
One-on-one Training
Pelvic Floor Issues
Personal Training
Pilates
Pilates And Personal Training For All Athletes
Pilates And Personal Training For Runners
Pilates Circuit Classes
Pilates For Dressage Riders
Pilates For Golfers
Pilates For Men
Pilates for Osteoporosis
Pilates For Rotational Sports
PIlates For Runners
Pilates For Triathletes
Pilates Mat Classes
Pilates Method Alliance Certified
Pilates Reformer Classes
Pilates Teacher Training Program
Pilates Training for Athletes
Pilates/ballet Fusion
PMA Certified
Polestar Pilates Educator
Pre-Rehab & Post-Rehab Pilates
Prenatal & Postpartum Pilates
Private Pilates Classes
Reflexology
Semi-Private Pilates Classes
Senior Pilates Programs
Strength Training
Stretching Classes
Structural Integration
Therapeutic Pilates
Tower Classes
Weight Loss Coaching
Workshops
Wunda Chair
Yoga