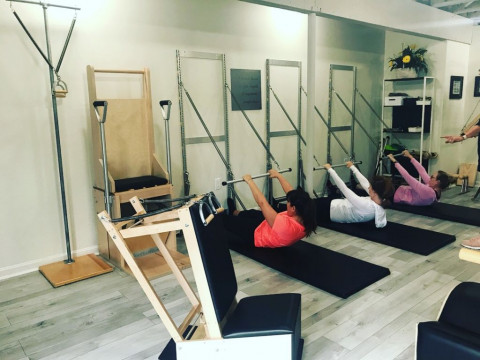 Pilates Fit Studio helps individuals improve the way they move so they can enjoy life. Using the Classical Pilates Method and equipment, we offer private and small group training. We are also a host studio in Kentucky for The Pilates Center of Boulder, Co, school for classical Pilates. Our Certified Teachers and Education Advisors are committed to maintaining the integrity of the original method of Pilates to help our clients meet their health and wellness goals. No matter what your fitness background, we are dedicated to support you in achieving the happiness that comes along with a strong body and a healthy lifestyle.
We are located in the metro Louisville area (Crestwood, KY) off 22, between 329 and Norton Commons.
Specialties
AED/CPR Certified
Balance Training
Cadillac Classes
Certification Preparation
Certified Instruction
Chair Pilates
Classical Pilates In Louisville
Core Strength
Corporate Classes
Corrective Exercise Training
Corrective Exercises To Balance The Body
Flexibility
Group Pilates Classes
Instruction In Classical Pilates
Personal Training
Pilates Mat Classes
Pilates Reformer Classes
Pilates Teacher Training Program
Pilates Training for Athletes
Pre-Rehab & Post-Rehab Pilates
Prenatal & Postpartum Pilates
Private Pilates Classes
Semi-Private Pilates Classes
Senior Pilates Programs
Strength Training
The Pilates Center Of Boulder Host Site.
Therapeutic Pilates
Tower Classes
Weight Loss Coaching
Wunda Chair