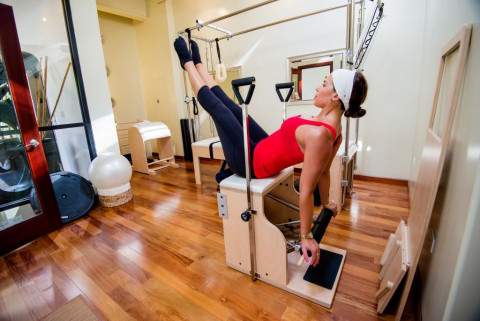 Pilates O Ka La… a fitness experience the first of its kind in Honolulu...
Away from the commotion of town, Pilates O Ka La is located in the beautiful Diamond Head neighborhood, on Monsarrat Ave (next to Diamond Head Market/Grill).
Pilates O Ka La offers "intelligent fitness for your soul" - intense workouts that quiet your mind and change your body. We are an exclusive boutique fitness studio specializing in high-quality Private and Duo Pilates Sessions. We are classically trained, Pilates Method Alliance Certified, and teach in a contemporary style, utilizing the latest and most advanced Pilates techniques.
We offer fitness-enthusiasts quick, fun, well-rounded and targeted one-of-a-kind workouts like nowhere else. In the Diamond Head/Kahala area, we are creating a tight-knit community of Pilates athletes, our 'Fitness Intelligentsia', providing them with top of the line Balanced Body apparatus, thoughtful amenities, and great music in a stunning and cool ambiance.
Complement your fitness routine with a killer workout, improve your sports game, do the best pre-natal & new-mommy workout out there, build long and lean muscles you didn't know you had, strengthen your core, improve your: posture, balance, agility, enhance your body and your life.
We also offer unique workshops and events, and luxurious Fitness Retreats. Come for the workout, stay for the lifestyle you gain. Also check out our fitness apparel, accessories, and sports nutrition supplements at the studio.
Specialties
Alleviating Back Pain & Back Strength Training
Chair Pilates
Core Strength
Fitness Training
Flexibility
Personal Training
Pilates For Golfers
Pilates for Osteoporosis
PIlates For Runners
Pilates Training for Athletes
Pre-Rehab & Post-Rehab Pilates
Prenatal & Postpartum Pilates
Private Pilates Classes
Senior Pilates Programs
Strength Training
Therapeutic Pilates
TRX Suspension Training
Yoga