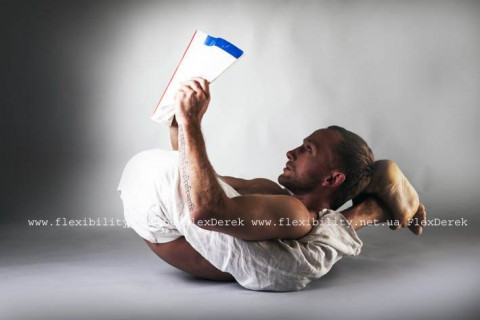 Slavik Komakha is the only certified student of the most flexible man on the planet Moukhtar Gusengadzhiev, who is listed in the Guinness Book of Records.
Slavik Komakha graduated a course conducted by Moukhtar Gusengadzhiev in Moscow five years ago and since then he has been doing his training course in Kiev at FlexDerekSchool The school is famous for its individual trainings. Each student of the School has a unique possibility to get the trainings according to one's individual abilities. As a result you can avoid trauma and you will get the best results in such hard work as building your own flexible body.
Komakha Slavik continues the practice of his famous coach who trained Nicole Smith, Dame Catherine Zeta-Jones, Madonna Louise Ciccone & Pamela Denise Anderson. Along with this fact, many stars of Ukranian show business such as Vitaliy Kozlovskiy, Eva Bushmina, Ruslan Kvinta, Alena Scherban, Tina Karol are trained by Vyacheslav Komaha.
Some Slavik's students began their own training course. They carry out the most of trainings in FlexDerekSchool.
Komakha Slavik has started his trainings in Europe since May 2014. There are two different types of trainings: for the beginners and for the professionals. The first took place in Athenes in May 2014. Then the trainings are conducted in Barcelona, Valencia, Roma, Italy.
Slavik's trainings are very popular in Ukraine. There are two parts of the training: theoretical and practical. According to your level you can choose two or four hour training. Among the visitors there are many sportsmen who study martial arts, yoga, all kinds of dancing etc.
We are looking for people who are interested in such trainings. Besides, we are glad to meet people who can help with the organization of these trainings in Europe, the US and other countries in the world.