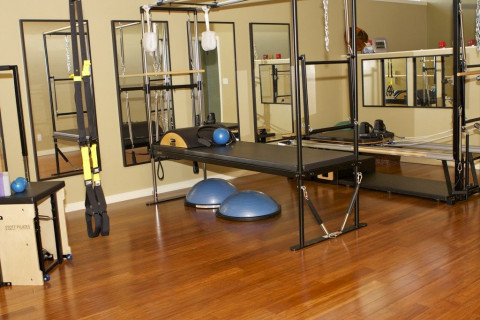 We focus on functional fitness that will compliment any activity or fitness program/goals. Along with Pilates training, we feature exercises that mimic natural movements, by combining strength, balance, and core in a way that typically leads to better muscular balance and joint stability. By incorporating Pilates and other fitness regimes, this can help our clients improve their cardiovascular fitness, lose weight, and continue rehabilitating after an injury. Our specialized equipment includes Pilates large equipment which consists of Reformer, Cadillac, and Stability Chair. We incorporate other functional equipment including TRX Suspension Training™ and TRX Rip Trainer™, dumbbells and kettlebells, fitness bands, BOSUs™, stability balls, Tabata Training, high intensity interval training, and more!
Specialties
AED/CPR Certified
Alleviating Back Pain & Back Strength Training
Arthritis
Balance Training
Barrels
Cadillac Classes
Cardio Pilates
Cardio-Reformer
Certified Instruction
Chair Pilates
Core Strength
Corporate Classes
Corrective Exercise Training
Corrective Exercises To Balance The Body
Disc Herniations
Fibromyaligia
Fitness Training
Flexibility
Group Pilates Classes
Hot Yoga
Instruction In Classical Pilates
Kids Pilates Classes
Mobility
Myofascial Release
One-on-one Training
Personal Training
Pilates For Aging Populations
Pilates For Golfers
Pilates for Osteoporosis
PIlates For Runners
Pilates Mat Classes
Pilates On The BOSU.
Pilates Reformer Classes
Pilates Training for Athletes
Pre-Rehab & Post-Rehab Pilates
Prenatal & Postpartum Pilates
Prenatal And Postnatal Pilates And Yoga Exercises
Private Pilates Classes
Semi-Private Pilates Classes
Senior Pilates Programs
Springboard Pilates
Strength Training
Stretching Classes
TRX Suspension Training
Yoga