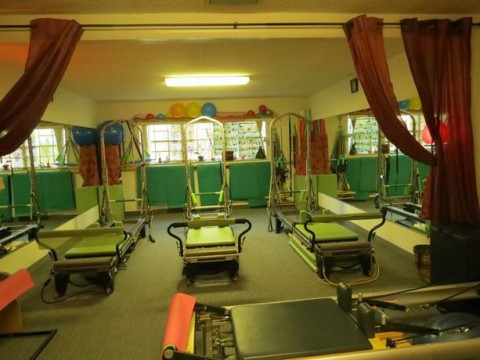 Private health studio offering group and personalized instruction, on Pilates equipment, Yoga, Personal training, Red cord suspension training, Stretching, Massage therapy.
We emphasize on post rehab for soft tissue injuries, along with corrective exercise and we have experience in medical conditions.
www.aerialbodies.com
We have 5 tower reformers, one cadillac, one dual split pedal
chair, one inversion table, one spine corrector, balls, magic circles, bosu, foam rollers etc....
We speak Spanish and French too!
Specialties
AED/CPR Certified
Alleviating Back Pain & Back Strength Training
Arthritis
Balance Training
Ballet Barre
Breast Cancer Rehabilitation
Cadillac Classes
Cardio-Reformer
Chair Pilates
Chek Practitioner Level 2
Core Strength
Corrective Exercise Training
Corrective Exercises To Balance The Body
Disc Herniations
Fibromyaligia
Fitness Training
Flexibility
Foam Roller
Group Pilates Classes
Instruction In Classical Pilates
Lifestyle And Weight Management Services
Massage Therapy
Mobility
Myofascial Release
Neuromuscular Therapy Massage.
Nutrition Counseling
Nutrition Metabolic Typing
One-on-one Training
Pelvic Floor Issues
Personal Training
Pilates For Golfers
Pilates For Men
Pilates for Osteoporosis
PIlates For Runners
Pilates Reformer Classes
Pilates Training for Athletes
Pre-Rehab & Post-Rehab Pilates
Prenatal & Postpartum Pilates
Private Pilates Classes
Semi-Private Pilates Classes
Senior Pilates Programs
Strength Training
Stretching Classes
Therapeutic Pilates
Tower Classes
TRX Suspension Training
Weight Loss Coaching
Wunda Chair
Yoga