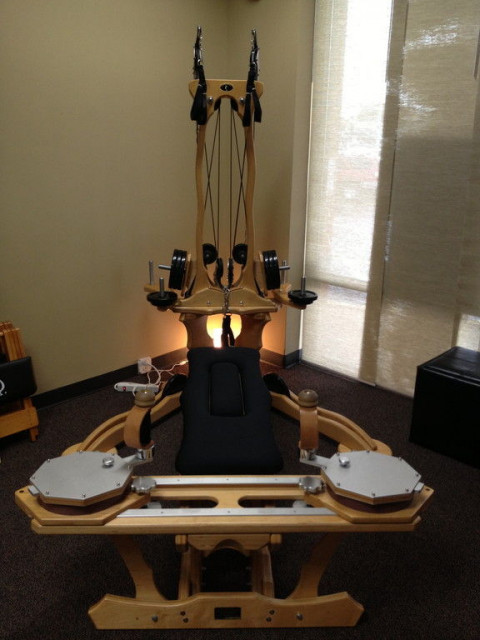 HEALTH INSURANCE may cover your Private Pilates sessions. Please call the studio and we will be happy to check for you.
Studio owner/instructor, of Proper Pilates at Absolute Wellness, Lisa Humphries, is a fully certified Tennessee State Licensed Chiropractic Therapy Assistant, Comprehensive Balanced Body University Instructor, and Licensed GYROTONIC® Apprentice. I work closely with Dr. Cory Crowley and Dr. Cheryl Elliston to develop a Pilates training plan tailored to your unique needs. Core strength, sports specific training, Post rehab for spine, scoliosis, knee, hip, shoulder. Improve posture, strength, flexibility. Hendersonville's first fully equipped, full service Pilates studio. Our pristine and spacious studio offers private sessions, semi-private sessions, mat classes, stretch classes, body rolling, reformer and tower classes, and physical therapy. The only licensed Gyrotonic studio in Sumner County. With our world class instructor training, at Proper Pilates at Absolute Wellness, you have it all!
Call our studio today for your initial complimentary consultation and free Pilates session.
Specialties
Alleviating Back Pain & Back Strength Training
Balance Training
Cadillac Classes
Certification Preparation
Chair Pilates
Corporate Classes
Fitness Training
Gyrokinesis Classes
Gyrotonic
Nutrition Counseling
Personal Training
Physical Therapy
Pilates For Golfers
Pilates for Osteoporosis
Pilates Mat Classes
Pilates Reformer Classes
Pilates Training for Athletes
Pre-Rehab & Post-Rehab Pilates
Prenatal & Postpartum Pilates
Private Pilates Classes
Semi-Private Pilates Classes
Senior Pilates Programs
Strength Training
Stretching Classes
Structural Integration
Therapeutic Pilates
Tower Classes
Weight Loss Coaching
Yoga