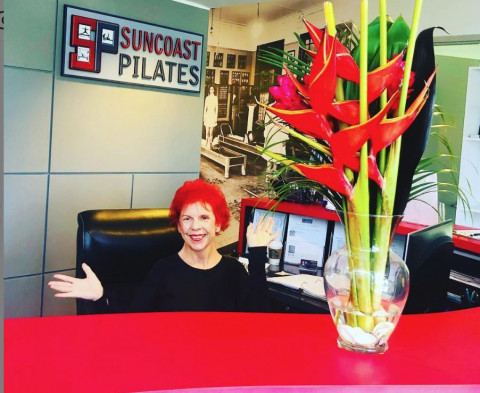 Area's first and premier Pilates studio, a fully equipped Pilates center, serving clients since 1997. Voted the top Pilates studio in the Tampa Bay area, Suncoast specializes in one-on-one, duo and group Pilates equipment training sessions, CoreAlign private, duo and group classes, Barre / Reformer classes, Bodhi Suspension Training and GYROTONIC® Private Sessions, serving Palm Harbor / Clearwater / Dunedin / Tarpon Springs and Tampa Bay, Florida area. Instructors are highly trained, Certified Pilates instructors, with extensive experience. Suncoast Pilates has celebrated 22 years of serving Pinellas, Pasco and Hillsborough counties in Florida.
Suncoast Pilates is also a Balanced Body Pilates instructor Training Facility, offering comprehensive Pilates Teacher Training, CoreAlign, Balanced Body Barre, Bodhi Suspension Training, MOTR (MoreThanARoller) and Anatomy in 3D Instructor Training, where Pilates instructors from around the world come to train to be Pilates and CoreAlign instructors and for Pilates continuing education.
Patricia Welter, B.S., is a 2nd Generation Pilates Instructor, Balanced Body Pilates Master Instructor and CoreAlign Master Instructor, Pilates Method Alliance Certified Pilates Teacher, Lolita San Miguel Pilates Master Teacher and 2nd Generation Pilates Teacher;, she is Pilates Director of Suncoast Pilates and , along with husband Bob, owns Suncoast Pilates.
Specialties
AED/CPR Certified
Arthritis
Barrels
Cadillac Classes
Certification Preparation
Certified Instruction
Chair Pilates
Core Strength
CoreAlign®
Flexibility
Foam Roller
Group Pilates Classes
Gyrotonic
Instruction In Classical Pilates
Ladder Barrel
One-on-one Training
Personal Training
Pilates
Pilates For Golfers
Pilates For Men
Pilates for Osteoporosis
PIlates For Runners
Pilates Mat Classes
Pilates Reformer Classes
Pilates Teacher Training Program
Pilates Training for Athletes
Pre-Rehab & Post-Rehab Pilates
Prenatal & Postpartum Pilates
Private Pilates Classes
Semi-Private Pilates Classes
Senior Pilates Programs
Tower Classes
Wunda Chair