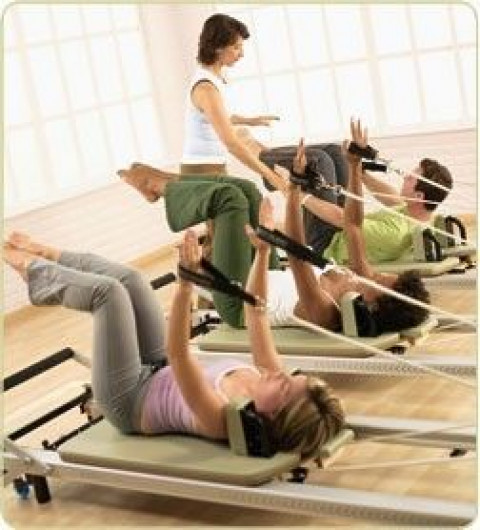 STOTT certified instructor, Bonnie Slawson and her staff offer a full range of times and levels of Pilates Reformer Group classes and Private training. Let us show you how wonderful you can feel.
Working on the Reformer dramatically transforms the way your body looks, feels and performs. It builds strength without excess bulk, creating a sleek, toned body with slender thighs and a flat abdomen.
It teaches body awareness, good posture and easy, graceful movement. It improves flexibility, agility and economy of motion. It can even help alleviate back pain.
Professional dancers have known the benefits of the Reformer for decades.
Top athletes use it for strength, flexibility and injury prevention.
Bonnie states, "As a professional dancer with extreme back problems, I turned to Pilates a decade ago and have never been stronger. " "I thought I had tried everything in the fitness world, but nothing had ever felt like a Pilates workout!"
The reformer is a safe, sensible system hat will help you look and feel your very best. CoMMotion offers a variety of classes to mix and match to create your own personal cross fitness plan.
Specialties
Alleviating Back Pain & Back Strength Training
Arthritis
Balance Training
Ballet
Barre
Barre Classes
Cadillac Classes
Cardio-Reformer
Certified Instruction
Children's Ballet
Core Strength
Corporate Classes
Corrective Exercises To Balance The Body
Dance Instruction
Fibromyaligia
Fitness Training
Flexibility
Group Pilates Classes
Increase Body Awareness
Nutrition Counseling
One-on-one Training
Pelvic Floor Issues
Personal Training
Pilates
Pilates For Golfers
Pilates For Men
Pilates for Osteoporosis
Pilates Mat Classes
Pilates Reformer Classes
Pilates Teacher Training Program
Pilates Training for Athletes
PiYo
Pre-Rehab & Post-Rehab Pilates
Privat Pilates Sessions
Private Pilates Classes
Semi-Private Pilates Classes
Senior Pilates Programs
STOTT PILATES Certified Instructor Training
Strength Training
Stretching Classes
TRX
TRX Suspension Training
Work On Posture And Alignment
Yoga
Yoga Mind Body
Zumba Classes