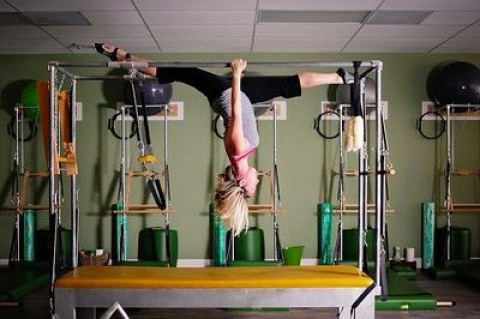 Pilates Space Florida serves health conscious and socially minded clients who care about the environment and are looking for a Pilates Studio that commits to their needs for a well balanced lifestyle.
Our studio was designed as a space that offers you the best of all worlds:
We created a community atmosphere that will empower you but still offer you enough privacy for focused work that will completely transform your body and mind.
Our studio features a common area for group lessons, a private, sectioned off area for private lessons, a treatment room and ample space to relax and enjoy your time with us.
We welcome you to browse through "Clara's Café & Boutique" where we offer you organic smoothies, tea and treats while you can browse through our latest apparel lines, jewelry, DVD's, Books, Candles, Supplements and much more while enjoying the tranquil atmosphere complete with our aquaponic systems and wall gardens.
The entire space was designed with you, our client, in mind so we hope you enjoy your time at Pilates Space Florida!
Specialties
Active Isolated Stretching
Alleviating Back Pain & Back Strength Training
Arthritis
Back Care And Osteoporosis Training
Balance Training
Barrels
Body & Cardio Sculpting
Body Analysis
Breast Cancer Rehabilitation
Breathing
Cadillac Classes
Cardio-Reformer
Certification Preparation
Certified Instruction
Chair Pilates
Core Strength
Corporate Classes
Corrective Exercise Training
Corrective Exercises To Balance The Body
Disc Herniations
Fibromyaligia
Fitness Training
Flexibility
Foam Roller
Group Pilates Classes
Gyrotonic
Instruction In Classical Pilates
Kids Pilates Classes
Lifestyle And Weight Management Services
Massage Therapy
Meditation
Mobility
Myofascial Release
Nutrition Counseling
Pelvic Floor Issues
Personal Training
Pilates And Personal Training For All Athletes
Pilates And Personal Training For Runners
Pilates Circuit Classes
Pilates For Dressage Riders
Pilates For Golfers
Pilates For Men
Pilates for Osteoporosis
Pilates For Rotational Sports
PIlates For Runners
Pilates Mat Classes
Pilates Reformer Classes
Pilates Teacher Training Program
Pilates Training for Athletes
Pink Ribbon Program
Pre-Rehab & Post-Rehab Pilates
Prenatal & Postpartum Pilates
Private Pilates Classes
Reiki Therapy
Semi-Private Pilates Classes
Senior Pilates Programs
Strength Training
Stretching Classes
Structural Integration
Tai Chi
Therapeutic Pilates
Tower Classes
Weight Loss Coaching
Wunda Chair
Yoga